Christmas is a time of year we all wait for so we can gather with family and friends. It's a time where we decorate our homes, front lawns, bannisters, tables and shelves with ornaments , greeneries, trees and candles to make our house cozy, comfortable, colourfull and above all christmasy.
Here are some tips we can all use to give our homes the look of Christmas.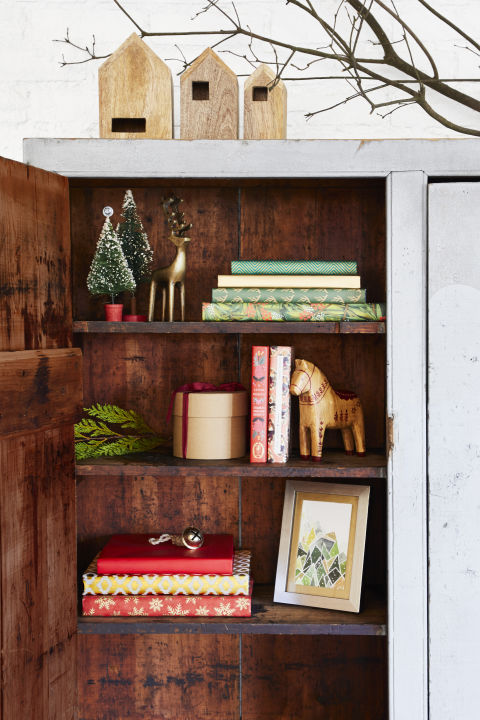 Reorganize the Bookshelf
Wrap books with leftover wrapping paper for pretty spines, or swap in wintry prints and festive figurines.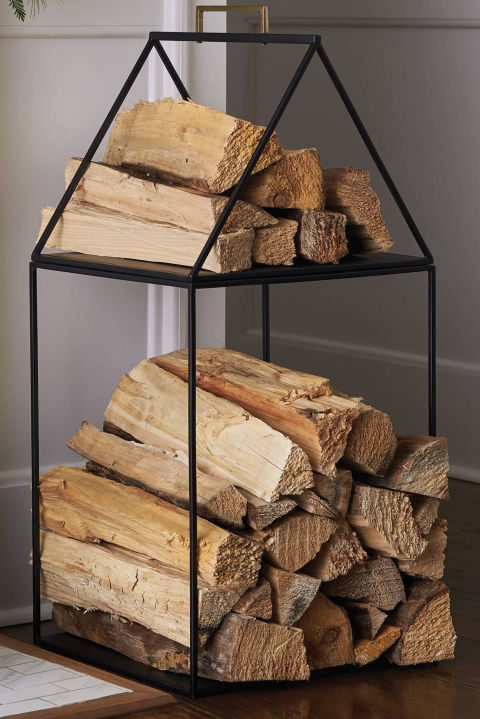 Log storing
Split logs look even homier when they're stored in the house. You'll be waiting for the temperature to drop just so you can build a roaring fire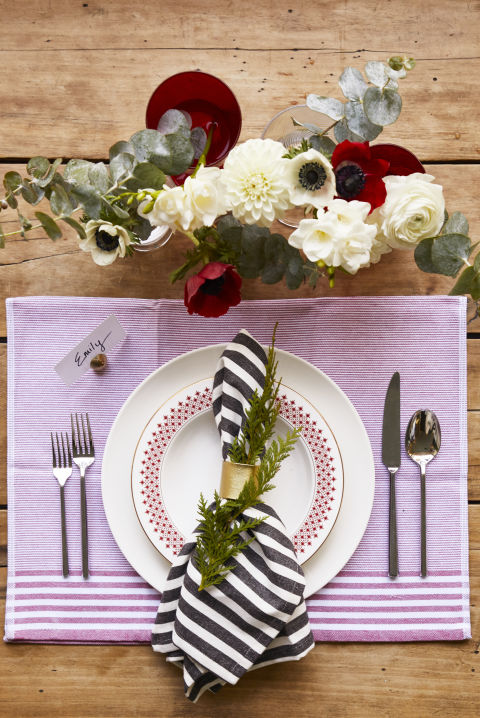 Set a Casual Table
Swap in folded tea towels for placemats and napkins. They work just as well — and they're often cheaper! Colorful tumblers can step in for vases too.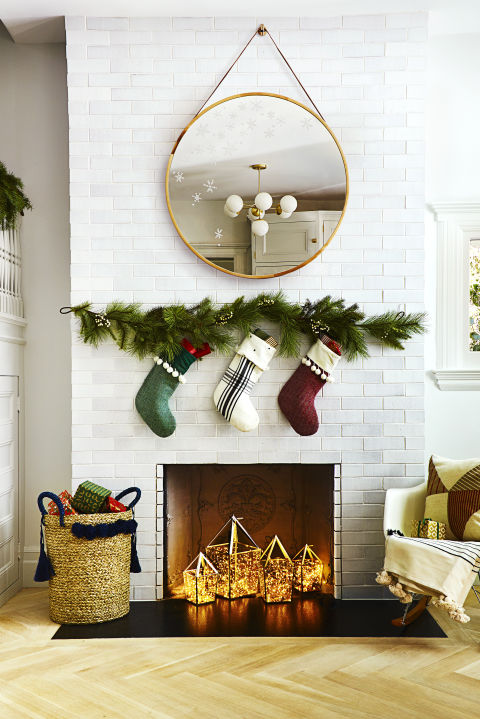 Draw on Snowflakes
Use a washable-paint marker to add fluttery flakes to a mirror. Festive stockings — attached to a faux garland — and a tassel basket hold plenty of goodies.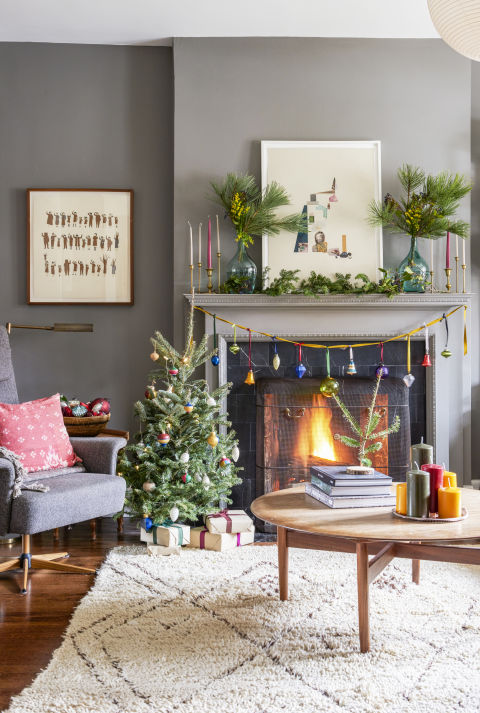 Choose a Charlie Brown Tree
Bigger isn't always better. A tiny tree brings plenty of cheer, and it's easier for kids to decorate. Just maybe put the more fragile ornaments somewhere else ..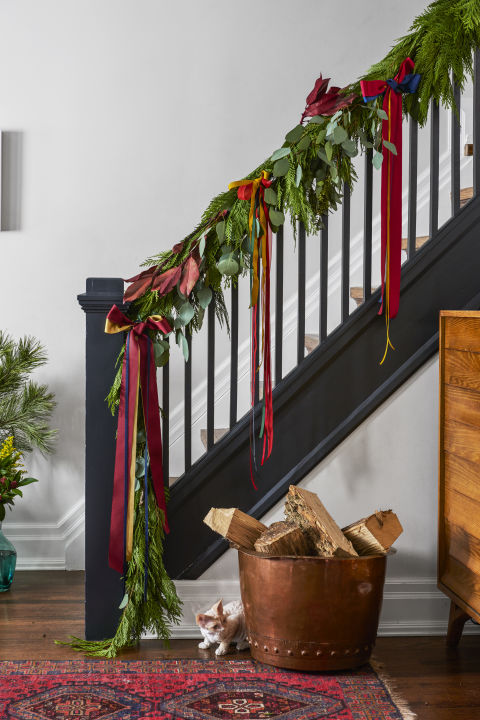 Let Ribbons Hang
Line a banister with a fresh pine garland and crimson bows. Better yet, stir up some paint in a dramatic hue for a merry makeover you'll love even after the holidays.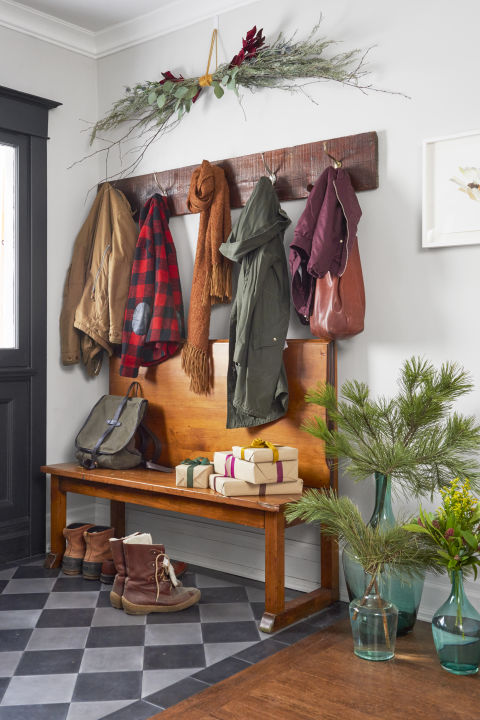 Spruce It Up
Spread cheer throughout the house by placing pine boughs in vases. They'll smell so fresh too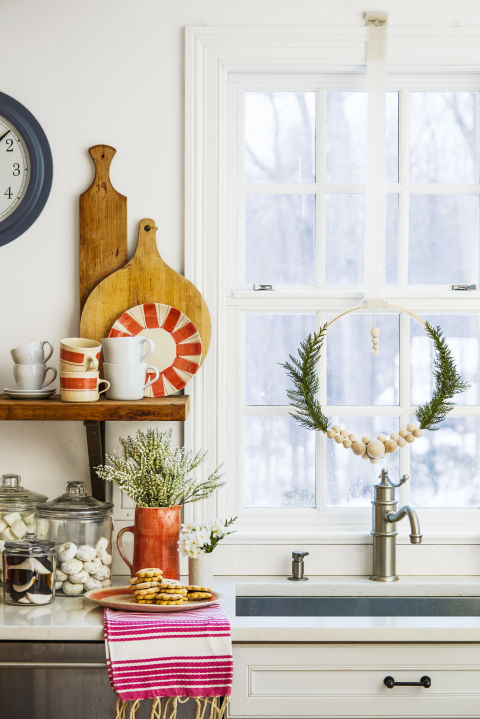 Adorn the Windows
Fancy up your view with a unique wreath made from an embroidery hoop or a garland of lush greenery.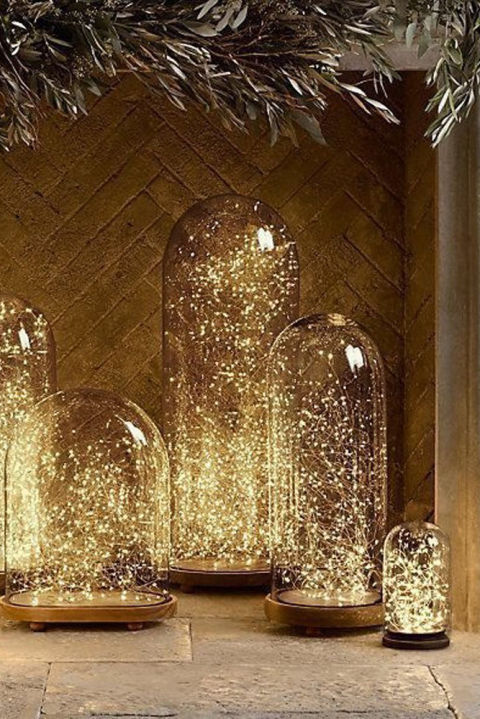 Led fairy like terrariums
A non-working fireplace doesn't seem so bad when you can fill it with these fairy-like terrariums.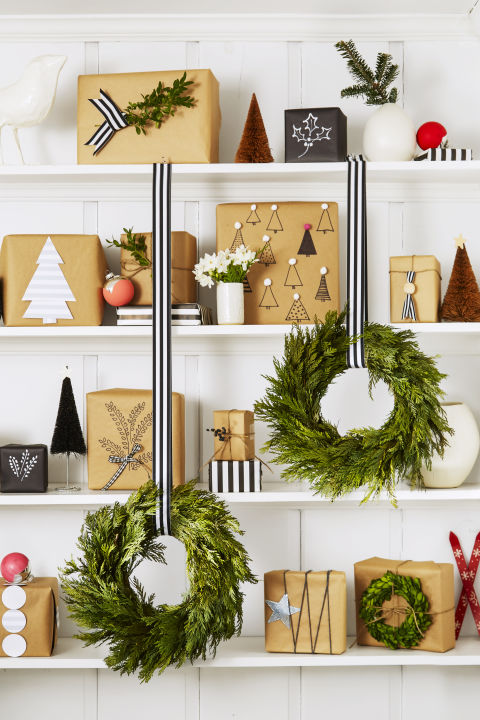 Deck the Walls
Too many gifts under the tree or no tree at all? Use a bookshelf! To unify the look, wrap with Kraft paper and add black, white and silver accents.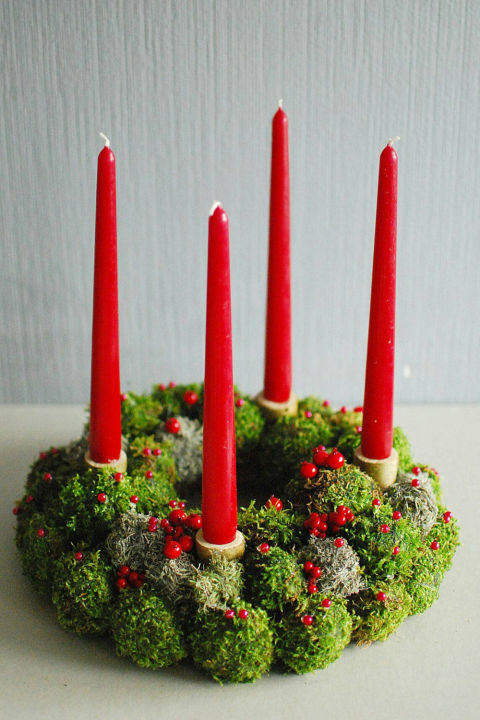 Wreath center piece
The prettiest wreaths aren't always on the front door. With real dried moss and bright red tapers, this traditional decoration doubles as a gorgeous centerpiece.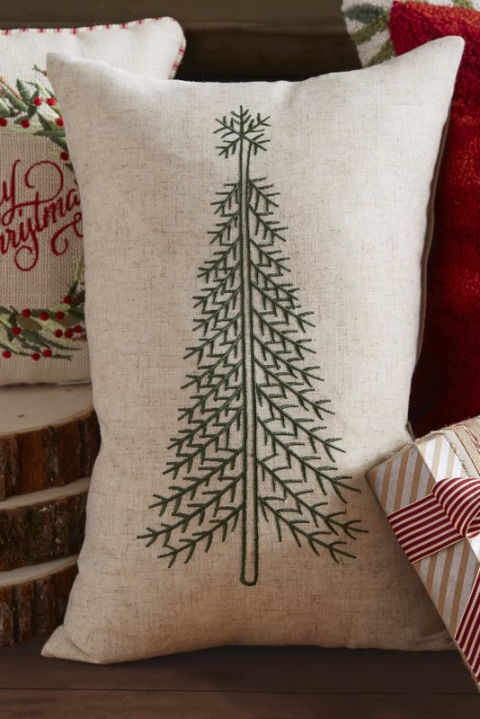 Dress Up the Couch
When the season calls for snuggling up the couch and watching Christmas movies, you don't want to skimp on the throw pillows.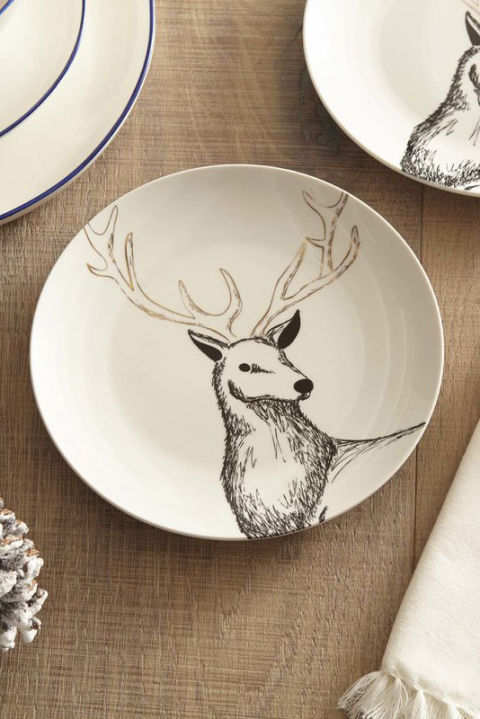 Set a Festive Table
Your holiday breakfast needs this adorable set of matching reindeer plates or something similar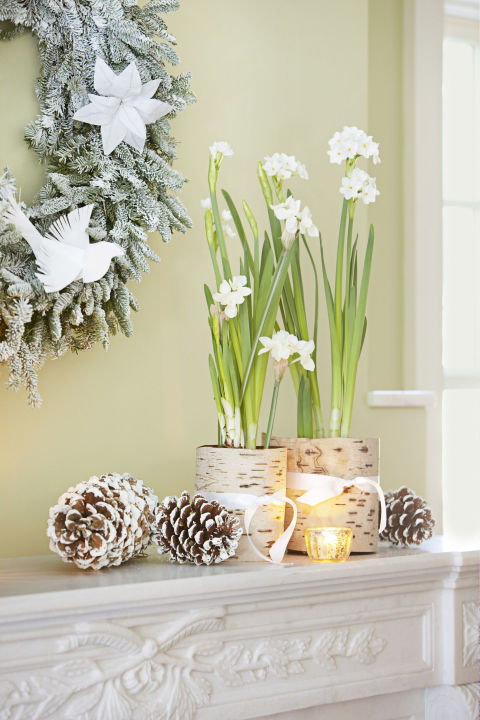 Pot Flowering Bulbs
Amaryllis blooms may be tried-and-true, but you can mix it up with delicate paper whites. Create your own white Christmas by wrapping the containers in birch bark and scattering snow-spritzed pinecones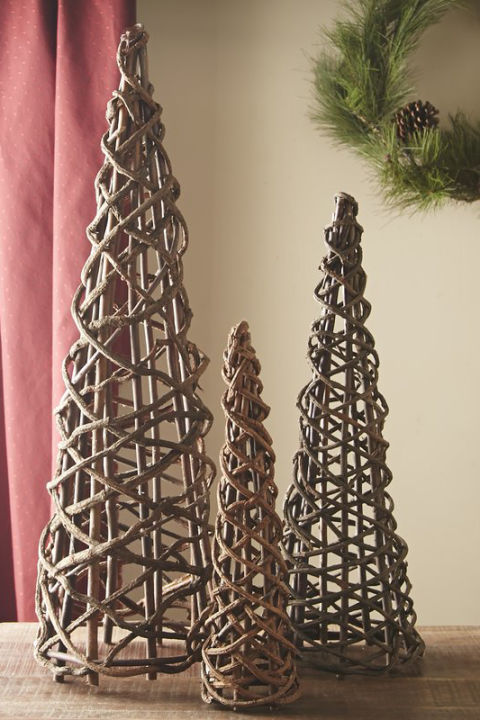 Put Out Lots of Mini Trees
A little trio of topiaries can brighten your tabletop without veering towards kitsch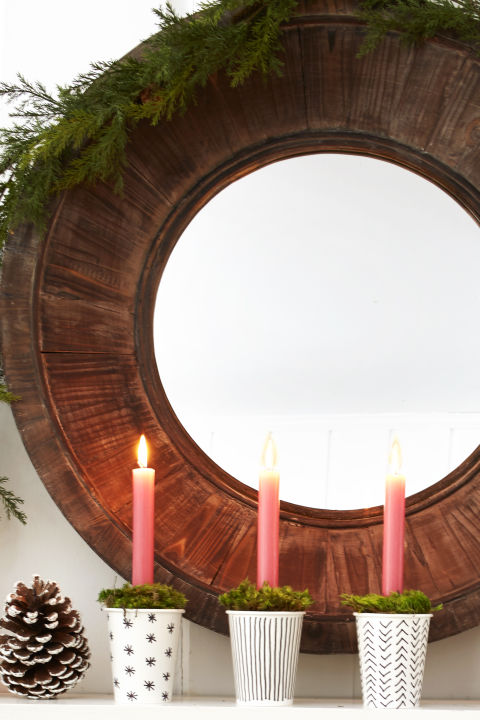 Make Up the Mantel
Grab a Sharpie, draw simple patterns on paper cups (kids can decorate them, too!), fill with moss and nestle a taper inside each. The result is a mixture of patterns that add a glow to your day harmoniously.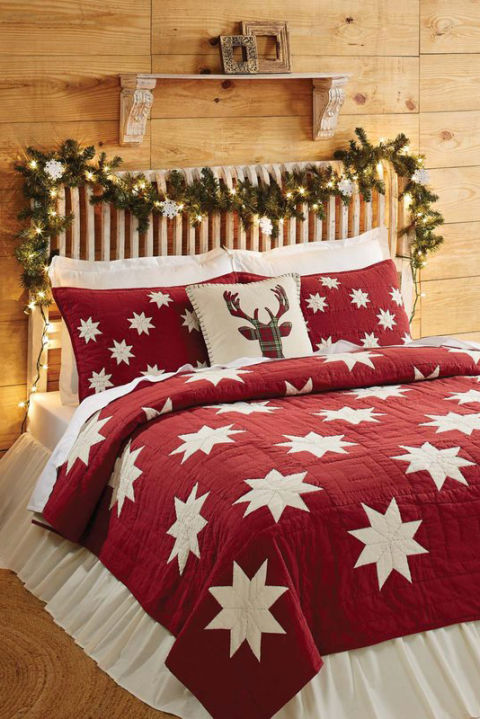 Remake the Bed
Getting out of bed on winter mornings just got even harder thanks to this cozy quilt.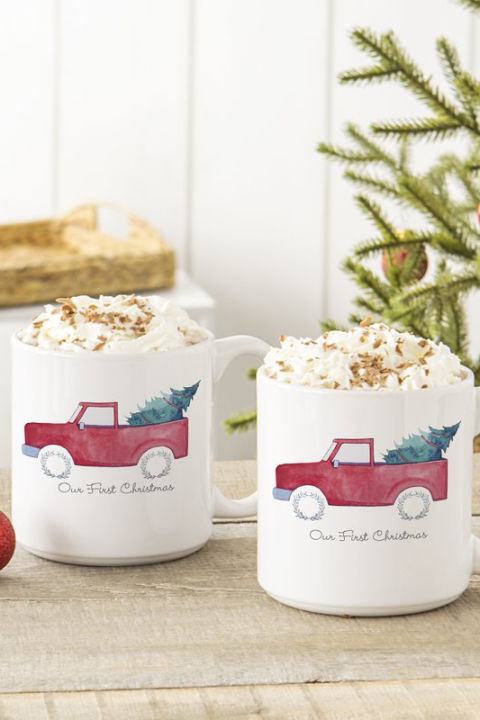 Serve Santa Cocoa
Hot chocolate, mulled cider, spiked eggnog … Seasonal drinks call for a seasonal (and personalized!) set of mugs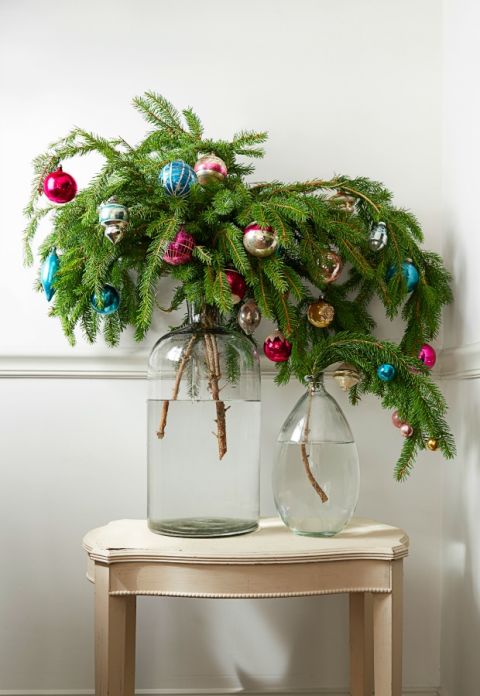 Spruce Up Boughs
No room for a tree? Decorate an entryway or a tiny apartment with fir, spruce or pine branches in an oversize jar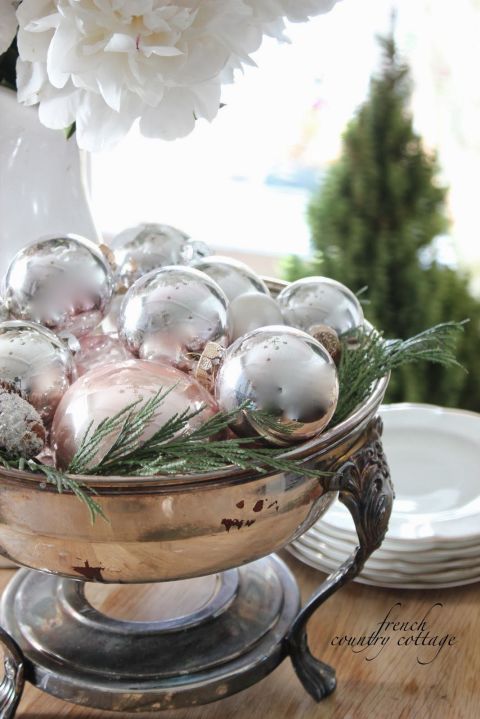 Repurpose Ornaments
Shiny ball ornaments don't just look good on trees — they actually make for a lovely holiday centerpiece, tucked neatly into a bowl full of greens.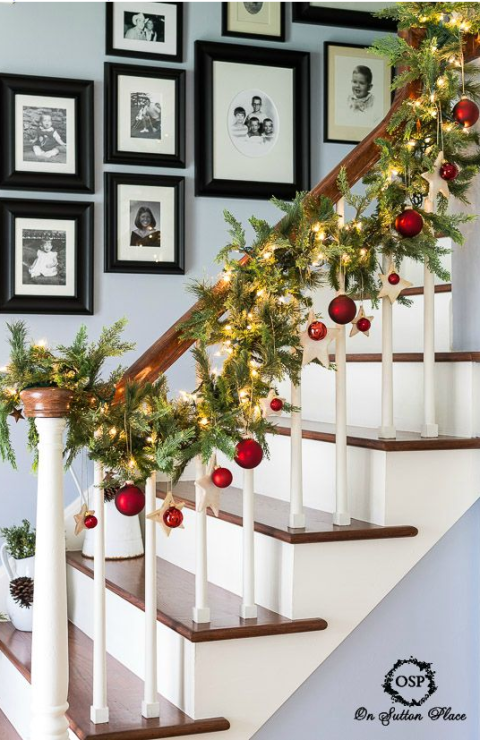 Dangle Ornaments
Using different shapes and sizes, add Christmas ornaments to your banister's garland.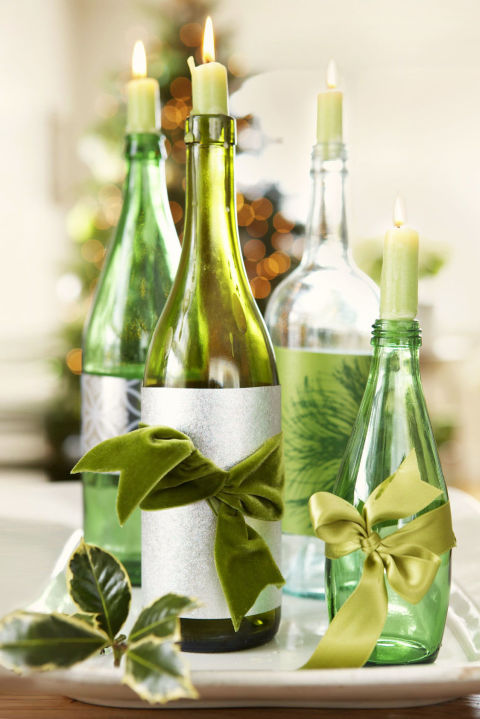 Repurpose Wine Bottles
Raid the recycling bin for a new set of festive candlesticks. Just replace the labels with silvery wrapping paper and lux ribbon before adding tapers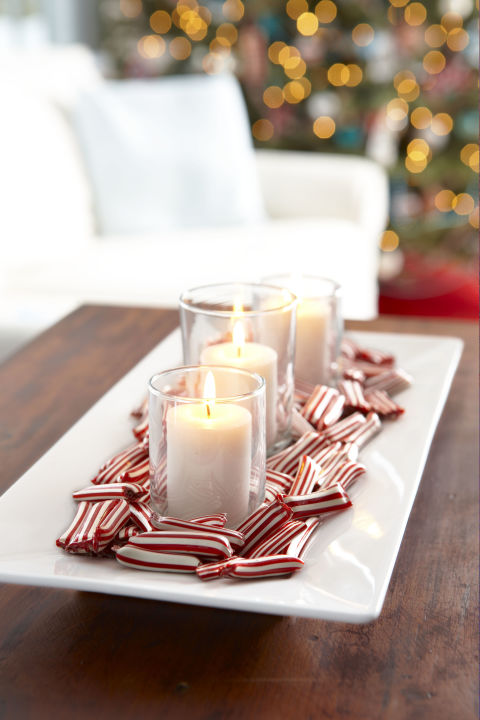 Restyle the Coffee Table
Nix the traditional candy dish and dress up a plain tray with peppermint puffs. Light a few candles and your centerpiece is complete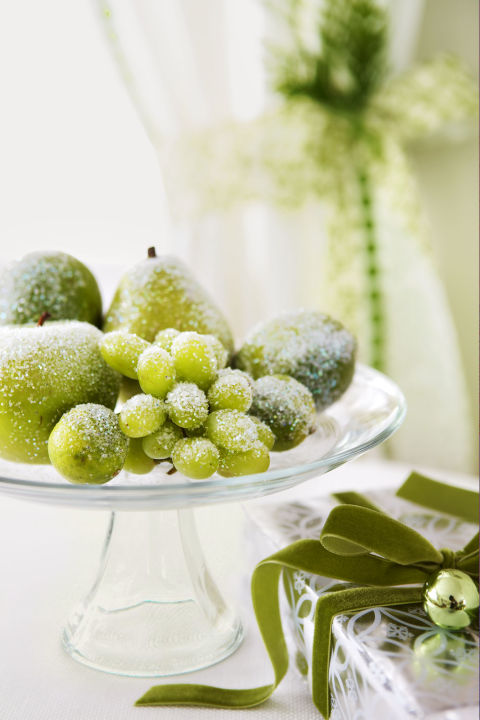 Add More Glitter
There's a secret to faking an icy frost. Roll faux fruit in a mixture of three parts white glitter to one part silver for a wintry coating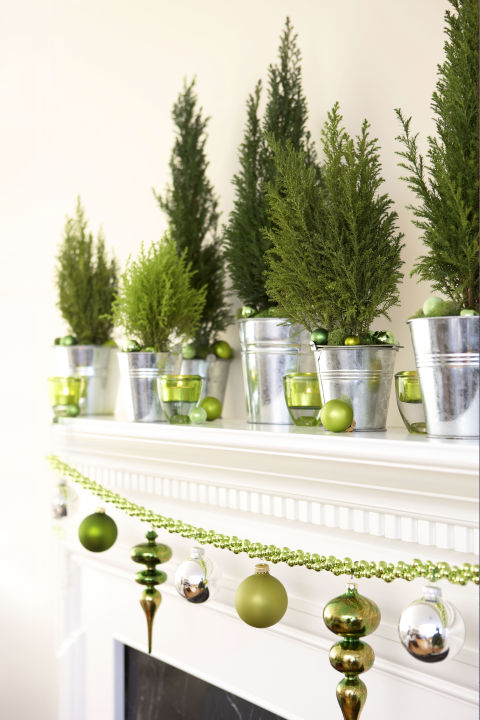 Plant a Row of Trees
Plunked in galvanized pails, spruce seedlings keep the greenery coming. Add some sparkle by securing ornaments to a bead garland with floral wire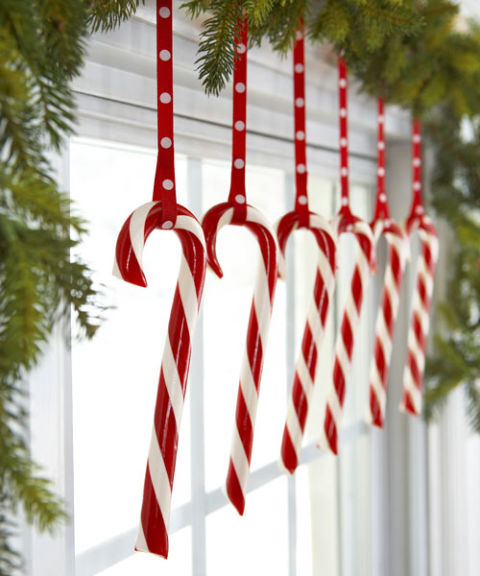 Dangle Treats
Keep candy canes out of kids' reach but on display by hanging them from a bough-decked window. Hook the peppermints on loops of polka-dot ribbon for added charm.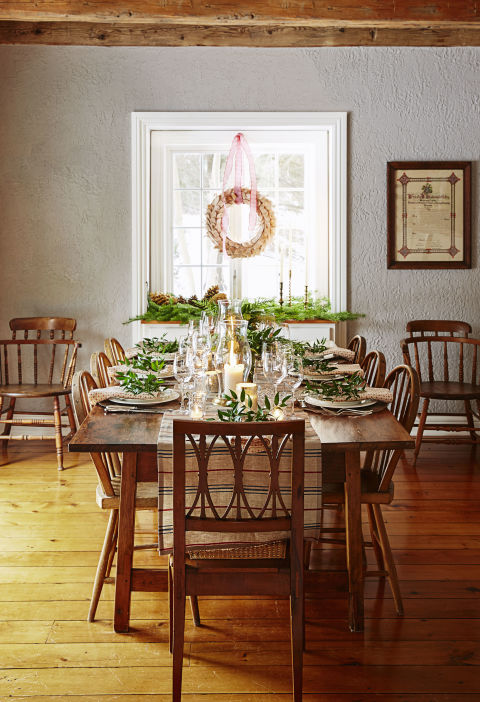 Hang an Indoor Wreath
Tie a wide piece of ribbon in a knot at the top and leave the ends long for a fresh take on the big red bow. Deck out your window sill like a mantel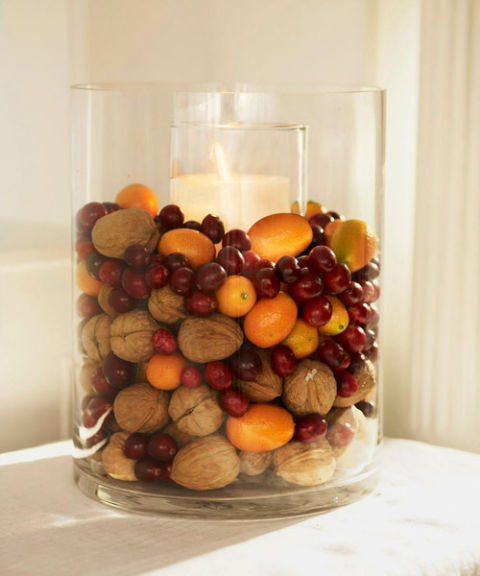 Go Nuts
Heaped with walnuts, cranberries and kumquats, a cylinder vase displays festive flavors. Place a tall pillar candle and holder inside the vase; surround with fruits and nuts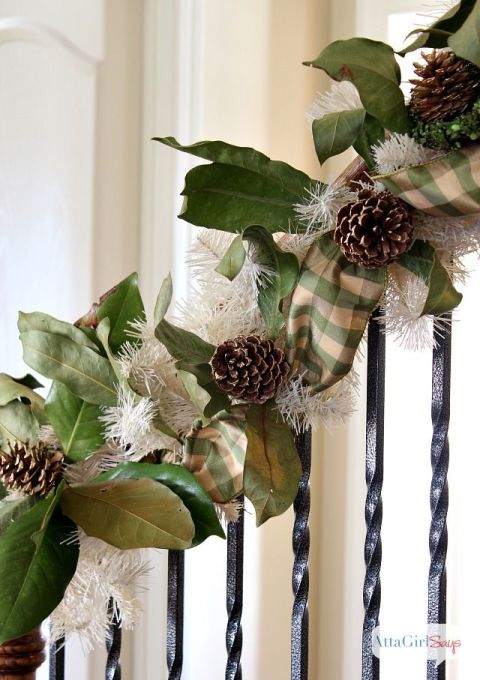 Celebrate Nature
Mix faux garland with real greenery, weaving in pine cones and a matching thick ribbon. This blogger kept hers secure with zip ties.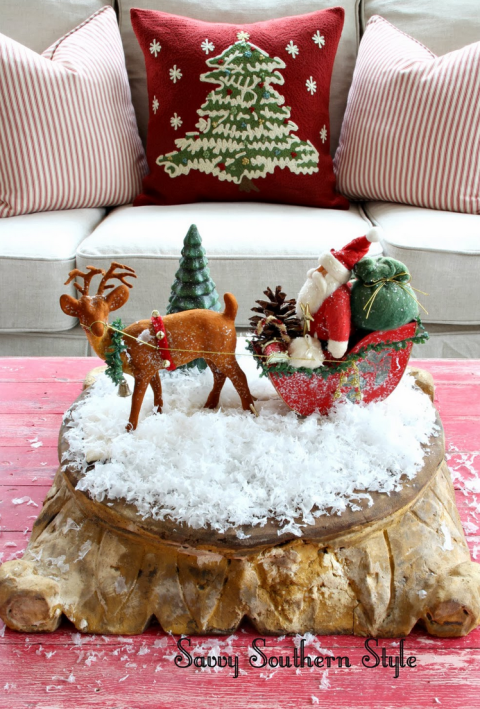 Create a Display
A miniature display of Santa Claus and his reindeer looks especially fun on some fake snow.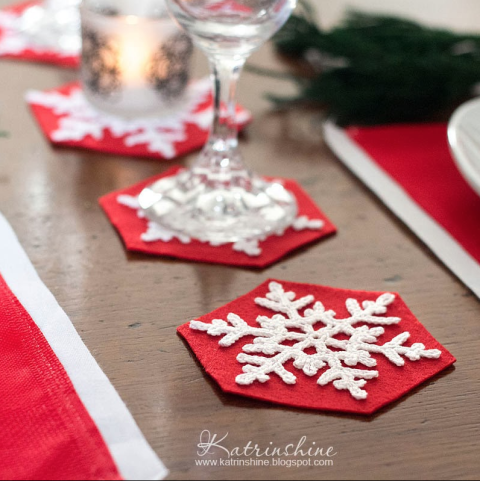 Coast with Snowflakes
Stitch up snowflake coasters for party guests' drinks or purchase from a variety of patterns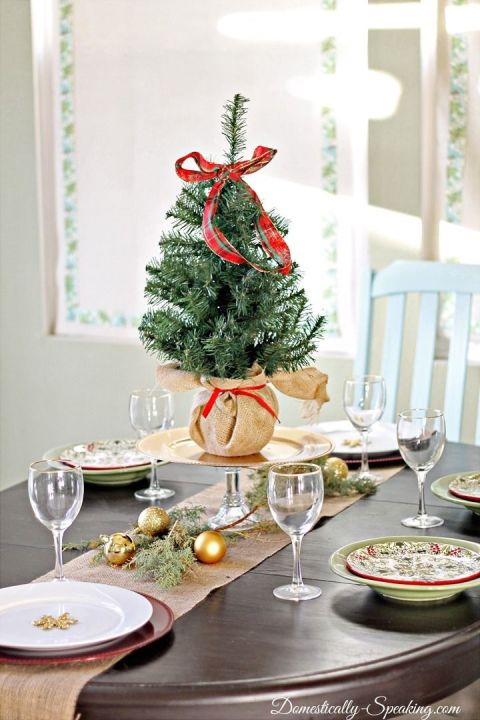 Get a Little Tree
A baby version of your large Christmas tree is the perfect size for a table — instead of a star, try a bow.