Pros and Cons of Gas, Wood, and Electric Fireplaces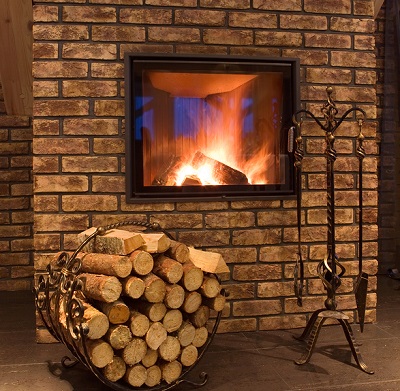 Fireplaces have always been a delight and the most in-demand amenity. They are now more versatile than ever, since you can choose from beautiful fire places fueled by gas, wood, or electricity. Each has different benefits so that fireplaces can be a perfect fit for virtually any lifestyle. The following pros and cons of each fireplace fuel type can help when it's time to make a decision about which type of fireplace you want in your home.
Gas Fireplaces
While people seem to be trending toward treasuring the value of a savored moment, most folks still live incredibly busy, fast-paced lives. There's just not a lot of extra time for things like dealing with firewood. Fortunately, you can enjoy a fire without that hassle. In fact, a gas fireplace makes it incredibly quick and easy to spend stolen moments by a cozy fire. The following are pros and cons of gas fireplaces.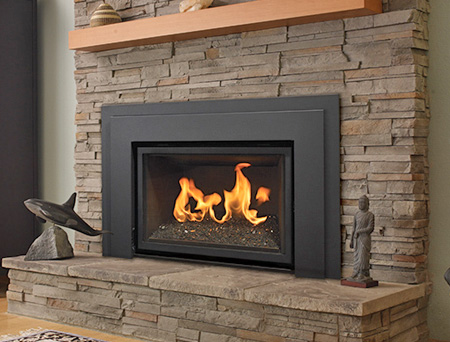 Advantages of gas fireplaces:
• Turning on a gas fireplace is instant and provides immediate gratification. With the touch of a switch, a thermostat, or a remote control, you can get the fire started.
• Gas fireplaces are efficient. You can zone heat with these convenient appliances, if you have them installed throughout your house. In other words, switch off the central heating system and turn on a gas fireplace in whatever room you're in.
• The maintenance is minimal. No ash or soot needs to be cleaned up, though an annual inspection is important, to ensure continued safe operation of your gas fireplace.
• Even when the electricity goes out, you can use your gas fireplace to stay warm.
Disadvantages of gas fireplaces:
• The cost of installing gas fireplaces can be high, particularly if you need to have a gas line installed, as well.
• While the ceramic logs in a gas fireplace look far more realistic than when they first came out, the full effect of a genuine fire is missing. For example, there are no crackling sounds or smells emitted by aromatic firewood.
Wood-burning Fireplaces
There is something so down-to-earth and rugged about a fire, yet it's a genuine luxury to have a wood-burning fireplace in your home. Emissions standards have changed drastically. When a traditional masonry fireplace is built today, there are certain requirements which are designed to help ensure that the appliances are efficient at producing heat. It will be worth it to have a wood-burning fireplace in your home, as long as you don't mind all of the steps involved with keeping a supply of seasoned firewood handy for cozy fires. The following are more pros and cons of wood fireplaces.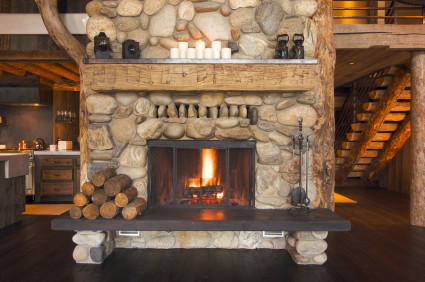 Advantages of wood-burning fireplaces:
• The ambiance of a fire is unbeatable, with the crackling logs and woodsy aroma.
• If the electricity goes out, your wood fireplace provides a means of staying warm, having light in the darkness, and cooking.
• You can choose the type of firewood you burn, which means you can make your fire long-burning, quick-burning, or especially aromatic.
Disadvantages of wood-burning fireplaces:
• You will need to buy or chop your own firewood and store it so that it dries out and stays dry until you're ready to burn it.
• It's unsafe to leave a fire unattended because even when ashes are warm, a fire can be re-sparked.
• Annual maintenance is required or your home insurance may be affected, not to mention it could be unsafe to use your fireplace without annual inspections.
• A traditional wood-burning fireplace is not efficient. If a fireplace insert is added,( Fireplace inserts are invariably made from cast iron or steel and most have self-cleaning glass doors that allow the flames of the fire to be viewed while the insulated doors remain closed, making the fire more efficient. This makes use of an "air wash" system whereby clean air is directed across the interior surface of the glass and thus prevents the buildup of deposits) however, the amount of heat provided to your home is greatly increased.
• Oftentimes, the damper doesn't close sufficiently, which means there are drafts in and out through the chimney year around, resulting in higher utility bills.
Electric Fireplaces
Our digitized world is contributing to fireplace options. Electric fireplaces project an image of moving flames, which is the ultimate in faux fireplaces. These fireplaces can provide a significant amount of heat, but not without cost. See pros and cons of electric fireplaces below: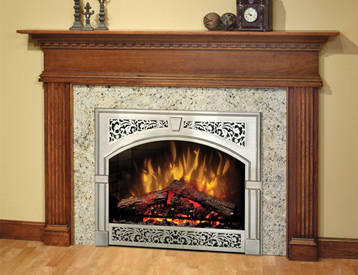 Advantages of electric fireplaces:
• Electric fireplaces are the least expensive available that produce heat and light.
• They are easy to install and source.
• Electric fireplaces are highly portable, since all that is needed is to plug them in.
• They are ideal for tight spaces where other types of fireplaces wouldn't fit.
Disadvantages of electric fireplaces:
• The fires are obviously fake.
• During a power outage, they won't work.
• The heat provided is costly because electric fireplaces are little more than space heaters with added ambiance.
• The style options are much more limited than with wood-burning fireplaces and gas fireplaces, and you may not be able to find a style that suits your décor.
No matter what type of fireplace you choose for your home, it helps to have the help of a professional chimney technician for installation, inspections, maintenance, and cleaning. Contact our chimney experts today.